Kyrenia Beach
The gorgeous, soft white sandy beaches are one of the main reasons tourists flock to stunning coastlines in Kyrenia, North Cyprus. Private beaches and public beaches, each as beautiful as the next, are backed by ragged cliffs and mountainous landscapes.
Public Kyrenia beaches are often the most popular with both locals and tourist, and so can become quite busy during the peak summer months, whereas private Kyrenia beaches benefit from the added luxury of sun loungers and parasols, many with beach cafes, but you do have to pay for the privilege.
Acapulco Beach (Private Kyrenia Beach)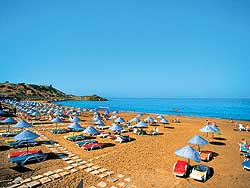 Head to Acapulco Beach, owned by the Club Acapulco Hotel, if you're in search of a pristine and relaxing beach. Although charging more than any other Kyrenia beach in the area, at Acapulco Beach you're treated to the delights of warm, golden sands, as well as shallow and safe waters, the ideal place for all the family. With a bar, beach restaurant, sun loungers and parasols, you'll be more than satisfied, and there's even a nightclub on the beachfront run by the hotel if you wish to sample it after the sun goes down. If it's more than enjoying the relaxing sands you're after, the more energetic will appreciate the chance to partake in some water sports or a few games of tennis.
Alagadi Turtle Beach (Public Kyrenia Beach)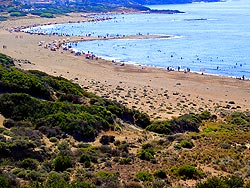 Despite being a public beach, the sheer length of Alagadi Beach means you can always find your own spot away from the crowds. The longest stretch of golden sand on the coast and backed by the Five Finger Mountains, it is accessed via a dirt track through pretty sand dunes, and the easiest way to reach it is a drive through 1.5km of olive trees. Leave your Kyrenia hotel and head here at the right time of year and you could spot one of the endangered Loggerhead Turtles making their way back to see as Alagadi Beach is a major nesting spot for these amazing animals.
But it's not just these beaches which prove popular with holidaymakers in Kyrenia, to the east and west of the town you'll find plentiful soft white sands to take your fancy. Whether it's tranquillity and isolation you're in search of, a beach where you can sample water sports and bars line the promenade, you're sure to find what you're looking for along the coastline of North Cyprus.