Kyrenia Weather
With the island of Cyprus offering over 300 days of wonderful sunshine a year, the town of Kyrenia has a fantastic climate all year round. With a Mediterranean coastline, North Cyprus has long, hot summers and cool, fresh winters. The lack of summer rainfall ensures that the Kyrenia's weather consists of lengthy period of clear skies and uninterrupted sunshine. When staying at your hotel in Kyrenia, make sure you turn on your air conditioning.
10 Day Weather Forecast for Kyrenia Cyprus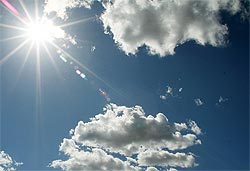 The temperatures in Cyprus can be in excess of 40 degrees Celsius, but the Kyrenia weather is a more comfortable 30 degrees Celsius due to the cooling sea breezes. With air conditioning units inside Kyrenia hotels, the temperatures inside are very comfortable. The Mediterranean Sea that surrounds the island rarely falls below 16 degrees Celsius and during the peak of summer, the Kyrenia weather climate ensure it rises as high as 28 degrees Celsius.
Winter is the wettest season in Kyrenia, but it never rains enough to put of the ardent golfers who love the great golf courses on offer in North Cyprus. Much of the rain falls in the surrounding Kyrenia mountain range so often the Kyrenia weather is much better than almost anywhere else on the island.
During spring the weather starts to rise ensuring the mountains that surround Kyrenia are covered by striking flowers, which provide a beautiful location for a walking holiday. By summer, temperatures are hitting their peak and the North Cypriot sun shines for up to 11 hours a day. While on holidays in Kyrenia in the summer it is advisable to cover up in light clothes whilst out and about as the sun is extremely strong and hot. A high factor sunscreen is a necessity and should be applied frequently, whilst drinking plenty of water would be prudent.
Once autumn arrives, North Cyprus is a great place to visit as the majority of holiday makers have left and the town takes on a much more relaxing ambience. Kyrenia weather at this time is still sunny and mild up until October, which means the daytime temperatures are slightly more bearable.
The year round pleasant Kyrenia weather means no matter when you travel you're assured a pleasant and dry stay, with the choice of a hot and sunny climate in the peak summer months or cooler temperatures in the winter. All hotel rooms in Kyrenia have separate air conditioning units so you will be comfortable while sleepings and resting in your hotel room.