Kyrenia Flights
The only airport in North Cyprus, Ercan Airport has approximately 100 flights arriving each week during the summer months from a variety of destinations. After undergoing a recent renovation, the airport now has a modern appearance making cheap flights to Kyrenia much more pleasurable.
We recommend you fly to Kyrenia Cyprus with Pegasus Flights - www.flight-cyprus.co.uk
Transfer time from Ercan Airport to Kyrenia Hotels is approximately 30 minutes.
Transfer time from Larnaca Airport to Kyrenia Hotels is approximately 90 minutes.
Airlines which regularly fly in and out of Ercan Airport include Cyprus Turkish Airlines (CTA), Atlas Jet, Pegasus Airlines and Turkish Airlines. UK tourists do not require a visa to fly to Ercan Airport.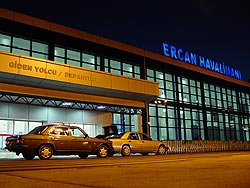 Most people taking cheap flights to Kyrenia will fly into Ercan Airport and despite being a less known airport in comparison to other Cyprus airports such as Larnaca, there are still plenty of Kyrenia flights from the UK and other European airports, making access to North Cyprus fairly easy.
Three UK airports, Heathrow, Gatwick and Stanstead fly into Kyrenia, with most of the 20 flights arriving in the evening. Cheap flights to Kyrenia are linked from Turkey, where most European flights must first stop at before carrying onto Kyrenia, but don't worry, most passengers are not required to disembark the aircraft. These scheduled flights to Kyrenia from Turkey fly from Istanbul, Izmir, Ankara, Adana and Antalya. If flying by Cyprus Turkish Airlines, you will no longer have to touch down in Turkey.
There is also the chance to do a spot of duty free shopping at Ercan Airport for all those last minute buys.
On arrival at Ercan Airport, if you have already arranged your Kyrenia airport transfer with us, we will transfer you to your hotel in Kyrenia in approximately 30 minutes. If meeting a representative at the airport, you will be directed to your coach or minibus where you will be looked after from there on. If hiring a car, getting to your chosen hotel in Kyrenia is a fairly easy and smooth drive following the well sign posted roads.