Why Stay at Kyrenia Hotels ?
For a care free stay in Cyprus, with the large choice of Kyrenia hotels available for your use, you can be sure that all of your needs will be attended to when you choose to stay in one of the many quality hotels that Kyrenia has to offer.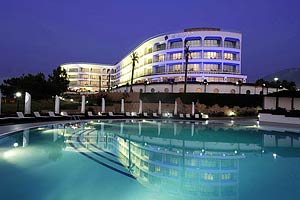 Hotels in Kyrenia offer services from all inclusive to self catering. For a relaxing holiday, all inclusive hotels such as Merit Crystal Cove Hotel, will ensure that your every need is tendered to with food, drinks and on site facilities included in the total holiday price, you never have to go far to find exactly what you require. If you have need of a little more choice or simply want to sample the delights of Kyrenia's many restaurants but enjoy the facilities available, one of the many half board hotels such as Acapulco Beach Club & Resort Hotel, would be better suited to your needs. For the ultimate choice in dining and facilities on offer throughout Kyrenia, a self catering holiday gives you the full freedom of where you choose to dine, drink and spend your days, but with the benefit of all the on-site facilities. But you don't have to spend all your time enjoying everything your hotel has to offer as there's so much to explore and sample in Kyrenia that you'll be sure to spend some time in this lovely town. Try the elegant Dome Hotel in centre Kyrenia.
One of the main reasons to choose a hotel in Kyrenia as your holiday is to ensure you're completely relaxed as you can enjoy the North Cyprus sun knowing that the family is enjoying everything the hotel and Kyrenia has to offer. With so much on offer and a wide ranging of activities available from the beautiful beaches, exhilarating water sports, great shopping and the atmosphere restaurants, there's something for all the family in Kyrenia. Choose to stay in a hotel in Kyrenia and your room are cleaned by the friendly staff and you will also have the safe knowledge of the security afforded by the hotel staff.
Many of the hotels in Kyrenia have exquisite restaurants located within their grounds, many of which have unspoilt views of the Mediterranean Sea and wonderful Five Finger Mountain range, with a full choice of international and local dishes, these can offer the ultimate night out followed by an evenings entertainment in the hotel bar or you could choose to sample the bars of Kyrenia.
Almost all of the hotels in Kyrenia are located within walking distance of the beautiful harbour which makes them the best choice of accommodation to sample the many independent bars and restaurant, shops and local amenities that this historic North Cypriot town has to offer.
With so many quality hotels in Kyrenia, the whole family will really appreciate the range and diversity on offer in the town, you really will be spoilt for choice when taking a holiday in one of the many hotels in Kyrenia.