Kyrenia Castle & Kyrenia Harbour
This stunning Venetian castle dates back to the 14th century when the harbour was a bustling port and Kyrenia Castle protected this important North Cyprus town. Today the harbour is lined with bars and restaurants where you can enjoy the beautiful surroundings. The Dome Hotel is a minute walking distance from the Kyrenia Harbour.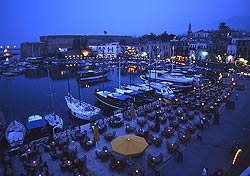 A dramatic and stunning landmark, the castle and harbour in the town of Kyrenia Cyprus both stand proudly overlooking the beautiful Mediterranean Sea. The Kyrenia Castle stands at the entrance to the harbour where it once acted as a guard to the once important and bustling port in the 1500's.
Lined with seafront cafes and restaurants, Kyrenia Harbour is the perfect setting for a peaceful day out enjoying the beautiful surroundings or for a day of exploration in the castle towering above the seafront. You should plan ahead before your leave from your hotel in Kyrenia and leave at least half of your day to Kyrenia Harbor and Kyrenia Castle. the The harbour is home to an unusual mix of traditional fishing boats combined with lavish yachts, where local people still go about the ancient long-established ways of working.
Although originating from 1489 during the Venetian era in Cyprus, the structure of the castle is believed to date back to the Roman era. The gatehouse, which still exists today, replaced a simple drawbridge and ensured the 12th century St George church was within the castle walls.
At the entrance to Kyrenia Castle you will find the tomb of an Ottoman admiral, which leads onto the main public area with living quarters, stables and guardrooms, as well as the royal apartments and chapel situated above these common areas. In the underground of the castle, the dungeons and storage areas can be found, which is where gunpowder was kept dry.
A walk around the castle walls is possible but the view from all points of the castle over the harbour below and onto the Mediterranean Sea really is breathtaking. This is a must-do holiday activity during your holiday in Kyrenia Cyprus. Ask your hotel reception about current visiting times of the Kyrenia castle. A visit to the Shipwreck Museum within the castle is a blast from the past with marine archaeological finds, including a wrecked vessel from 300BC.
Enjoy a day out at the Kyrenia Castle and Kyrenia Harbour, and appreciate the history that surrounds you as you sample the local dishes from one of the many cafes that line the atmospheric harbour.