Kyrenia Golf
The nearest hotel to Kyrenia golf is Acapulco Beach Club & Resort Hotel. Korineum Golf Course is only 8 minutes to Acapulco Hotel and 20 minutes to Kyrenia town centre.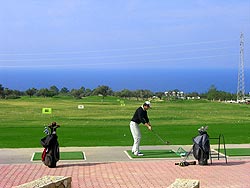 Home to the first 18 hole golf course in Kyrenia North Cyprus, the prestigious Korineum Golf and Country Club, offers some of the best views available in Kyrenia. Set amongst a natural forest with an abundance of umbrella pines and olive trees, this international standard golf course is sandwiched between the beautiful blue waters of the Mediterranean Sea and the awe-inspiring Five Finger mountain range.
Not only limited to its amazing golf course, the Korineum Golf and Country Club offers a wide range of activities. The large golf club houses a fitness centre, hair salon, massage and sauna, an ideal way to relax after an early start playing golf under the morning sun.
With a choice of five restaurants and bars offering a wide range of cuisine from international dishes to local delicacies, each are available as exquisite meals or bar snacks. Whatever your requirements you can find all your needs tendered for while enjoying the professional service guaranteed in all of the restaurants. With all details on offer, you will not want to go back to your hotel in Kyrenia.
Not only designed for the most experienced of golfers, the Korineum Golf and Country Club is home to a fantastic golf academy. This is an excellent opportunity for the amateur golfer to gain experience from PGA qualified instructors and improve all aspects of their game using high class facilities, such as a driving range, three full length practice holes, putting greens and a bunker practice area.
For a complete golfing holiday set amongst wondrous scenery with top of the range facilities, you should look no further than the Korineum Golf and Country Club in Kyrenia Cyprus.
Official Website: www.korineumgolf.com